334-347-5383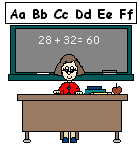 A good educator is like a candle - it consumes itself to light the way for others.- Author Unknown
I am a native of our state's capital, Montgomery, AL. Marriage brought me to Enterprise about 26 years ago. I have a wonderful husband and two beautiful children. I attended the University of Alabama, Tuscaloosa, from 1981-1985, where I received my Bachelor of Arts Degree (ROLL TIDE!!). Later, I received my Master of Education from Alabama State University in 1996 (Go Hornets!!). In 2002, I earned a great professional honor by becoming National Board Certified and recertified in 2012 (Want to know more about NBCT? ...Visit http://www.nbpts.org/). I am highly qualified and have worked at Holly Hill since I began teaching in 1996. In 2010, I received my certification in Instructional Leadership and Administration from Auburn University, Montgomery.
I ABSOLUTELY

education!!! I also enjoy spending time with my immediate family and my church family, reading books, singing or listening to music,traveling, motivational speaking, and formulating and presenting workshops.
As an educator, I know that one of our primary roles is to foster growth in students as well as one another. We should never cease to learn. As an Instructional Partner, I worked with all stakeholders in education to ensure learning and am looking forward to serving as Assistant Principal here at Harrand Creek to maximize student achievement. I am very dedicated to my profession. I am truly blessed by God to share in one of the greatest gifts this life has to offer and that is impacting instruction in order to maximize student achievement!

An Educator presents the past, reveals the present, and creates the future!!!

Support Educators !!!